Webmail
Unlike normal e-mail, which is accessed through a mail program configured for use on a specific computer, Webmail allows you to access your account on a Web page, using your browser. This means you can read, send, and organize your e-mail on any computer, anywhere in the world, with an Internet connection.
Some Webmail accounts can also be configured to view your "regular" e-mail on the Web as well, which is a perfect solution for road warriors. A popular Webmail service is Hotmail, and privacy is protected by the use of a unique username and password.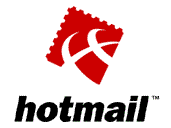 Historical perspective: Hotmail was one of the first, free Web-based e-mail systems launching in 1996. By adhering to the universal HTTP standard, Hotmail eliminated all the disparities that exist in different e-mail systems. So, you can send and receive e-mail using Hotmail in a way that's similar to browsing the Web.
NetLingo Classification: Net Technology