online auction
Similar to a real-life auction in which property or merchandise are sold to the highest bidder, an online auction takes place via a Web site, usually offering items for sale by the individual who owns them (C2C).
For example, eBay is a popular auction site whose mission is to help anyone trade practically anything on earth. There are hundreds of online auction sites that on any given day list millions of items across thousands of categories, such as collectibles, jewelry, musical instruments, cameras, computers, furniture, sporting goods, tickets, and even automobiles and boats.
There are also B2B auctions, B2C auctions, C2C auctions, and reverse auctions.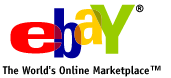 Historical perspective: Known as the world's largest online marketplace, eBay is a company with an online auction site that enables people to buy and sell goods and services on a local, national, and international basis.

In 1995, computer programmer Pierre Omidyar auctioned off a broken laser printer on his Web site for $14.83 (the buyer was a collector of broken laser pointers). Within two years, Omidyar registered eBay.com. In the year 2000, the eBay community transacted more than $5 billion in annualized gross merchandise sales, and, eBay has actually spawned a large number of people who have turned their part-time passions into full-time, well-paying jobs, simply by selling their goods online.
NetLingo Classification:
Online Jargon