SD card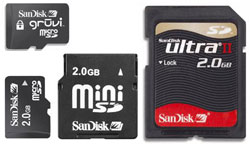 a.k.a. secure digital card, secure digital memory card
A Secure Digital (SD) card is a tiny memory card used to make storage portable among various devices, such as car navigation systems, cell phones, e-books, PDAs, smart phones, digital cameras, music players, and personal computers. An SD card features a high data transfer rate and low battery consumption, both primary considerations for portable devices. It uses flash memory to provide nonvolatile storage, which means that a power source is not required to retain stored data.
An SD card is about the size of a postage stamp and weighs approximately two grams. It is similar in size to a MultiMediaCard, but smaller than older memory card types such as the SmartMedia card and the CompactFlash card. Both MMC and SD cards provide encryption capabilities for protected content to ensure secure distribution of copyrighted material, such as digital music, video, and e-books. SD cards are available with storage capacities as high as 4 gigabytes.
The SD card was jointly developed by Matsushita, SanDisk, and Toshiba.
NetLingo Classification: Net Hardware