iPhone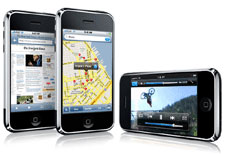 a.k.a. smartphone
A mobile phone introduced by Apple in 2007, it is considered a revolutionary product because of these technical features: phone calls, voice mail, ringtones, SMS, photos, music, video, Wi-Fi, Internet, e-mail, maps, widgets, multi-touch, OS X, wireless, accelerometer (which senses the orientation of the phone and changes the screen accordingly), proximity sensor, and more including the most advanced Web browser on a mobile device.
It has a small LCD and HVGA touch screen topped (with optical-quality, scratch-resistant glass which is specifically created for use with a finger, or multiple fingers for multi-touch sensing) and is very lightweight.
Historical perspective: One of the coolest aspects about using an iPhone is the number of killer apps found in the App Store. In the year since Apple's online App Store opened, it sold more than 800 million applications for its iPhone, at prices ranging from free to $10. Apple keeps 30 percent of each sale, with 70 percent going to the application's developer. By it's 10-year anniversary in 2017, more than 1 billion iPhones were sold.
NetLingo Classification: Net Hardware