Chatting Sports Can Help Drive Workplace Performance Gains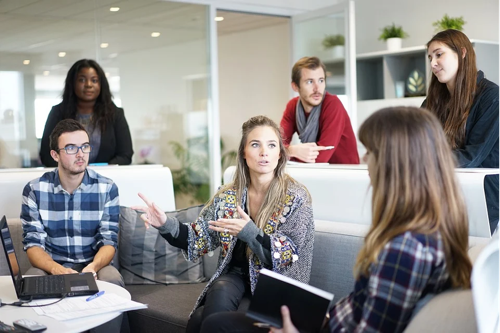 In 2019, the Toronto Raptors secured the NBC Championship, one of Canada's greatest ever sporting successes. Despite being an NBA franchise for a quarter of the century, the expansion team has often been viewed as an outsider, the only non-USA team in the NBA. While the victory was huge for Canadian sport, the NBA, and the Raptors, it also highlights how sport can improve the workplace.
I use the Raptors winning the 2019 championship because it was such a huge event. This was a relatively small upstart franchise that reached the top. The day after, people with even no interest in basketball would have known the fairytale story of the Raptors winning the NBA and would have been talking about it.
Sports chatter is something that can spur camaraderie amongst employs and boost productivity in the long term. Whether its talking about a big game, discussing sportsbooks odds at an online casino, or debating a hot sporting topic, sport chat is good for the workplace. Hey, don't take this sports fan's word for it.
Global staffing company Robert Half says sports talk in the workplace should be encouraged by those in management positions. The company details a recent survey that showed 68% of managers cited sports events like the Stanley Cup Playoffs and March Madness as a positive influence on morale in the workplace. Furthermore, over 50% said there were direct links between sports talk and increased productivity.
Koula Vasilopoulos, a district president for OfficeTeam at Robert Half, said last year companies should embrace sports conversations and look for bonding experiences involving sports.
"Rather than downplay excitement around major sporting events, many organizations welcome the distraction as an opportunity to build team engagement and camaraderie," said Vasilopoulos. "As long as employees respect company guidelines and work priorities, fun activities like jersey days or cubicle decorating contests can help lift morale without hindering productivity."
In the United Kingdom, the Social Issues Research Centre (SIRC) studied the impact of sports in work settings and found conversations on sports "can have a positive impact on boosting morale and improving mood, motivation and productivity in the working environment."
Two thirds of men and over 50% of women said how their sports team performs affects their work habits. Participants in the SIRC study said employers should encourage sports events and even watching them as a work activity.
"For the passionate followers of sport, sporting conversations are an integral part of day-to-day working life … Talking sport at work fulfils a host of functions, not least improving communication among team members, breaking down hierarchical boundaries and improving customer relations," SIRC said in its report.
So, if you want to foster spirit at work, sports chat is good. In fact, almost any kind of talk – as long as it is not controversial – will help to create a connection between employees. Sports works because it is a unifier across groups. If you are a business owner, don't curb the chatter, embrace it, and allow it to drive new productivity goals.