eBay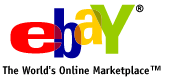 eBay, Inc.
Known as the world's largest online marketplace, eBay is a company with an online auction site that enables people to buy and sell goods and services on a local, national, and international basis.
In 1995, computer programmer Pierre Omidyar auctioned off a broken laser printer on his Web site for $14.83 (the buyer was a collector of broken laser pointers). Within two years, Omidyar registered his consulting firm, Echo Bay Technology Group, as eBay.com. Led by CEO Meg Whitman, eBay has more than 29 million registered users and is the most popular shopping site on the Net (when measured by total user minutes).
While Amazon.com is the poster child for e-commerce and Yahoo! the poster child for the first generation of the Internet, eBay has quietly become the only large, successful consumer Internet survivor to date. Every hour, for instance, 10 diamond rings, 120 PCs, and 1,200 articles of clothing are sold; a Corvette is sold on the site every three hours. In the year 2000, the eBay community transacted more than $5 billion in annualized gross merchandise sales, and, eBay has actually spawned a large number of people (see: intrapreneur) who have turned their part-time passions into full-time, well-paying jobs, simply by selling their goods online! If you have a comic collection, memorabilia, or some other kind of product that you're ready to sell, this is the place to post it.
NetLingo Classification:
Net Organization